Biblical Women
& CORE VALUES
---
Tuesday, September 12, 2017

Sarah and Chana: The women who are not forgotten

Learn the art of the perfect bagel with this exciting Bagel-Baking workshop! We will make (and eat) our very own fresh bagels. Plus, toast the new year with Herbal Infusion Elixir drinks mixed by the Santa Fe Oxygen and Healing Bar.

Sponsors: Marcell Wallace, in honor of her daughter's birthday, Yael Wallace

---

 

  Thursday, October 19

The Women Artisans of the Tabernacle: Talent and toil for the benefit of a nation. 

Professional artist? Never picked up a brush in your life? Whatever your artistic skills may be, you're sure to have fun with a paint party led by instructors from the Bubbly heArt Studio! Come away with a masterpiece of your own!
$30 for painting | RSVP required

Sponsors: Jane Davis, in loving memory of her mother, Ruth Pauker Davis; and Vivian Gundzik, in honor of John Gundzik's birthday Hostess: Martha Schlenger, in loving memory of her nephew, Elijah JJ Winter

---

 

Thursday, November 9

Chava: Our eternal connection

Connect with your past in an interactive workshop on the emotional and physical drama of finding your roots. Presented by Judith Fein, award-winning international travel journalist, speaker, blogger and author of The Spoon from Minkowitz: A Bittersweet Trip to Ancestral Lands.

Sponsors: Jane Hochberg, in honor of her 35th wedding anniversary; and Donna Secular, in honor of her mother, Audrey Secular

---

 

Wednesday, December 13

Yehudit: Doing what needs to be done

Enjoy our not-to-be-missed annual Chanukah bash! Get into the Chanukah spirit with an exciting live concert by our talented guest entertainer, Leora Nadtochy, a Chasidic composer, songstress and educator.

Sponsors: Carol Lieberman, in loving memory of Marion Lieberman; Stephanie Rosen, in loving memory of Bubby Claire Matz; and Sharon Samuels, In loving memory of my mother, Mirian Kirsch Hostesses: Regina Klapper and Karen Tobin 

---

 

Wednesday, January 17, 2018

Presenting The Wedding Plan, a film produced by Rama Burshtein, an Orthodox Israeli woman. After her fiance calls off their wedding a month before the ceremony, the woman decides to keep the reservation and trusts G‑d will provide her with a husband. 

Sponsors: Carolyn Albin, in loving memory of Wendy Jane Sukman; Marilyn Bennett,In memory of her father, Max Applebaum; and Lisa Freeman, in honor of her grandchildren, Ethan & Seth Van Dinter Hostess: Lisa Freeman

---

 

Thursday, February 15

Esther: Inner Beauty

Relax, refresh and rejuvenate with a special spa night! Get makeup advice, learn which clothing and colors suit you best, sample revitalizing skin creams and top it off with a relaxing massage.  

Sponsors: Judy Moore-Kraichman, in loving memory of her husband, Robert H. Kraichman; Gloria Abella Ballen, in honor of her daughter Vanessa and her grandchildren

---

 

Monday, March 12

Miriam: Leadership of vision and hope.

A Passover Experience. Come equipped with your unique Haggadahs, family customs and Passover memories to share in a group discussion led by Gloria Abella Ballen, artist of The New World Haggadah. Plus, special Passover wine tasting!

Sponsors: Elena Giacomin, in loving memory of her mother, Christina Anna Seeger; Carmen Rodriguez, in loving memory of her parents, Anecieta & Gabriel Rodriguez; and Karen Tobin, in loving memory of her husband, Bruce Tobin Hostess: Yaszmina Nedboy, in loving memory of her parents, Sally & Harry Nedboy

---

 

Tuesday, April 17

Personal Heroines: Choose a personal heroine who persevered and prospered and prepare her story in one page to be compiled in a handout.

Delve into the fascinating book Out of the Depths: The Story of a Child of Buchenwald Who Returned Home at Last, by Rabbi Israel Meir Lau, one of the youngest survivors of Buchenwald and the former chief rabbi of Israel. Book review and group discussion.

Sponsors: Naomi Diamond, in loving memory of her father, Michael Diamond; Carla Freeman, in loving memory of her mother, Beady A. Freeman; and Nurit Patt, In celebration of her birthday
Hostesses: Beverly Berger and Trudy Blitz, in loving memory of father and husband, Joseph Blitz

---

 

Tuesday, May 15

Devorah, Ruth, Chana: Taking initiative

Debra Band, author and illustrator of Arise, Arise! Deborah, Ruth and Hannah, will discuss the three biblical tales of women who stood up at crucial moments to take actions that not only preserved the nascent nation of Israel but also shaped its character. Book-signing to follow.

Sponsors: Judy Moore-Kraichman, In loving memory of her husband, Robert H. Kraichman; and Brooke Remmert, in loving memory of her mother, Grace Singer Cane Mason and in honor of her daughter, Autumn Faythe Remmert Hostess: Marcell Wallace, in honor of her daughter's birthday, Yael Wallace

---

 
---
Membership Features
Jewish Women's Circle membership covers September 2017 through June 2018. Membership will remain at $63 and includes all 10 monthly meetings and activities. Non-member fees will be $12. Becoming a member will save you money, but here are two new features that will give you additional reasons to join:

1. Birthday Club! Members will get a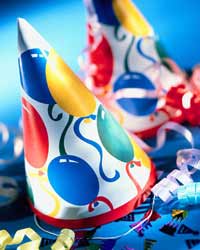 bunch of birthday goodies: their birthdays announced in this newsletter, a card, a cake in honor of that month's birthday girls, and a lovely gift! (We have already purchased gifts and I can tell you they are truly beautiful!) Make sure when you renew that you tell us when your birthday is so we can add it to the list.

2. Share your news here! If you are a member and you have any exciting news that you want the group to know about, send it to us and we'll run it in this newsletter. Is your child getting married? Do you have an art exhibit opening? Have you just published a book? Whatever it is, you'll be able to publicize it here!
Remember, these two new features will be available to members only! Contact us to become a member at 505-983-2000.